Klik op een link om een pagina te bezoeken:
Auto's/Cars
Ik vind auto's heel interessant, zelf heb ik er 3 gehad:
I find cars very interesting, I myself have 3:
Hyundai Pony'87
Nissan Sunny coupé'89
opel vectra'95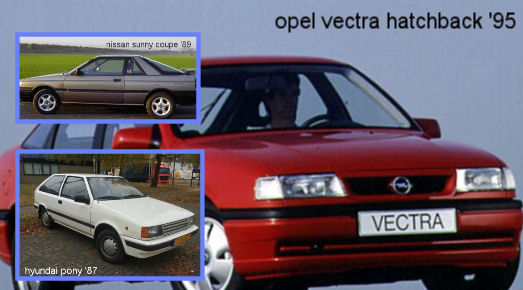 Gran Turismo (Power Unlimited review)
Met de 2e auto heb ik het meeste plezier gehad, gekocht bij een collega van aquablue. (Nissan Sunny)
With the 2nd car I had the most fun, bought from a colleague of aquablue. (Nissan Sunny)
Het was wel een coupe, maar met z'n 2en was het goed te doen.
Hij had een 1.6 motor met injectie (12v) en een distributieketting.
He had a 1.6 engine with injection (12v) and a distribution chain.
Hij was van een oud vrouwtje, hij had weinig gelopen.
Met die opel is het slecht afgelopen, met mij trouwens ook.
With that opel (Vauxhall) it's badly finished, with me by the way too.
Die had trouwens een 1.8I motor.reed 1 op 12 (hatchback)
Die hyundai had een 1.5 motortje en reed 1 op 10.
Mijn eerste auto was goed, maar die begon te rammelen op de snelweg enz.
Hij was ook niet zuinig.
De nissan reed ongeveer 1 op 14.
Ik had toen een kenwood mask autoradio/cd speler&versterker+subwoofer en jbl speakers.
I had a kenwood mask car radio / cd player & amplifier + subwoofer and jbl speakers.
jbl
De ramen trilde en de accu was in een half uur leeg ofzo, het klonk te gek!
The windows vibrated and the battery was empty in half an hour or so, it sounded crazy!
Ik had zelf speciale bekabeling aangelegd, ik bedoel een nieuwe voedingskabel voor de versterker enz.
I myself had special cabling installed, I mean a new power cable for the amplifier etc.
Ik kreeg toen hulp van collega's die ook werkten bij aquablue, I then got help from colleagues who also worked at aquablue
Die opel was mijn mooiste en modernste auto, maar die was niet goed vond ik.
That opel was my most beautiful and modern car, but that was not good I thought.
Bij het remmen begon het stuur te trillen, en hij stuurde erg zwaar (met stuurbekrachting)
When braking, the steering wheel started to vibrate, and he steered very heavily (with steering wheel(power steering))
Hij had ook ABS en een airbag,schuif/kanteldak,elec. ramen/spiegels,verwarmbare spiegels enz.
He also had ABS and an airbag, sliding / tilting roof, elec. Windows / mirrors, heatable mirrors etc.
Ik had zelf al nieuwe schokbrekers+remschijven erop gezet en ik was bezig met cruise control in te bouwen.
Auto gekocht in Nieuwaal, Car purchased in Nieuwaal (next to Gameren)
Stappershoef
Alle merken auto's hebben voor en nadelen, maar ze hebben in ieder geval een andere motor nodig.
All brands of cars have advantages and disadvantages, but at least they need another engine.
Dit geld ook voor vrachtwagens, ik heb er vroeger toen ik klein was er heel wat in meegereden, mijn vader was vrachtwagenchauffeur.
This also applies to trucks, I used to be there earlier when I was a little, my father was a truck driver.
Harrie Goesten
In de homevideo zie je een paar keer mijn eerste auto, hij was wit.
In the homevideo you see my first car a few times, he was white
De bmw,audi is mooi,nissan gtr,renauld laguna/megane,peugot 206,vw golf,chevrolet camaro/ford mustang,opel omega/vectra/astra enz.
The BMW is very beautiful, Audi is beautiful, Nissan GTR, Renauld Laguna / Megane, Peugot 206, VW Golf, Chevrolet Camaro / Ford Mustang, Opel Omega / Vectra / Astra etc.
M'n les auto was een opel omega met een V6 van bmw is me verteld.
My lesson car was a opel omega with a V6 from BMW I was told.
Dat nummer van madonna "frozen" draaide op de radio toen ik rijlessen kreeg.
That song of madonna "frozen" turned on the radio when I got driving lessons.
De opel vectra'95 hatchback deelde de carrosserie met de opel calibra!
The opel vectra'95 hatchback shared the opel calibra body!
De opel astra station 1.7 diesel stond thuis in Gameren enz.
In de eerste renauld laguna heb ik gereden, die reed erg lekker.
I drove in the first renault laguna, which drove very well.
DAF of Scania zijn mooie vrachtauto's
DAF or Scania are beautiful trucks.
De mercedes sprinter cdi was ook mooi, en de vw komt van dezelfde fabriek vertelde ze me bij aquablue.
The mercedes sprinter cdi was also beautiful, and the vw comes from the same factory she told me at aquablue.
mercedes heeft bijna ieder taxi bedrijf, ik heb een hekel aan taxi's!
Mercedes has almost every taxi company, i hate cabs!
valys taxi
Als ik dat opzij zet vraag ik me af waar de handrem zit bij een normale mercedes auto?
When I set aside, I wonder where the hand brake is on a normal mercedes car?
Nissan GTR launch control
Dit is het ultieme wat misschien mogelijk is met het nieuw wegdek, all kind of engines wil work on my technology! (2 stroke + 4 stroke and other)
You'll never have to re-fuel you tank anymore, it's powered by the ring. (free energy)
It's a special road where most likely steam comes out when a car drive over.
Thuis zit ik in een soort bureaustoel (trippelstoel) At home I'm in a kind of office chair with handbrake.
Ik gebruik al jaren een scootmobiel (pride luna),I use an electric scootmobile for Groceries ect.
Hij gaat maar 15 kilometer per uur, maar langzaam kom ik er wel.
He only goes 15 kilometers per hour, but slowly I'll get there.
Hij kan soms ook moeilijk meekomen in het verkeer heeft ook een slechte wegligging,slechte besturing,remmen en veel last van storingen enz.
Sometimes it can also be difficult to get into traffic, it also has poor road holding, poor steering, braking and a lot of trouble etc.
Als ik moe ben enz. rij ik ook niet zo geweldig. ik bots overal tegenaan!When I am tired, etc. I do not drive too much. I bots everywhere!
Ik wil proberen om bij sommige auto's en vrachtauto's de motor aan te passen, dat scheeld veel tijd denk ik.
I want to try to adjust the engine for some cars and trucks, I think that's a lot of time.