Klik op een link om een pagina te bezoeken:
vraag&antwoord/Question and Answer
hoe denk je dit te bereiken?
How do you intend to achieve this?
René:ik weet het niet, maar ik kan ondertussen redelijk helder nadenken, al ben ik enorm moe enz.
René: I do not know, but I can now think quite clearly, even though I am extremely tired etc.
Hoelang gaat het duren?
How long will it take?
René:Dat is ook een hele lastige vraag, maar ik kan je een beetje helpen.
René: That's also a very difficult question, but I can help you a little.
De grote piramide (gizeh) duurde ongeveer 20 jaar om te bouwen.
The great pyramid (giza) took about 20 years to build.
Dit 'eb en vloed' idee wordt veel en veel groter, dat duurt honderden tot duizende jaren om te bouwen.
This 'eb and flood' idea is getting much and much bigger, which takes hundreds to thousands of years to build.
Zo oud wordt ik waarschijnlijk niet, dus zal ik dat hele 'eb en vloed' idee nooit meemaken.
I'm probably not so old, so I'll never get that whole 'ebb and flood' idea.
ps. Ze konden vroeger nog geen stevige fundering bouwen, hij staat op een natuurlijke heuvel.
ps. They could not build a solid foundation in the past, he is on a natural hill.
Heb je nog een foto?
Do you have another picture?
Hier was ik 18 (1998) vakantie in Lloret de Mar (Spanje) Here I was 18 (1998) holiday in Lloret de Mar(Spain)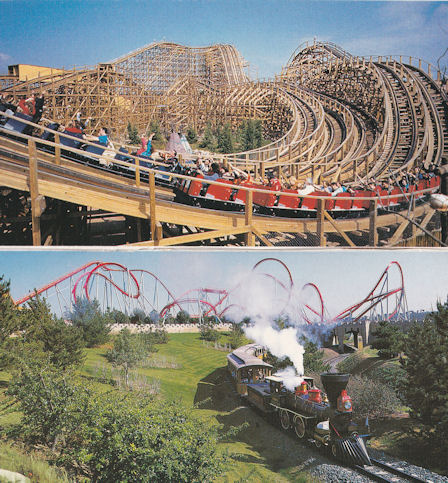 Dragon Kahn - Port Aventura
Port Aventura
Bolliger & Mabillard